Mission
The Congregation of the Sisters of Saint Joseph, was founded by Mary MacKillop and Julian Tenison Woods in 1866, for the service of the poor.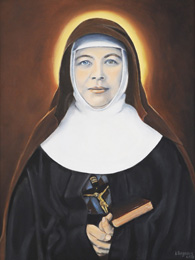 Its founding members were women who worked in a simple ordinary way to bring to the poor the message of their human dignity and of Christ's saving love.
Today the Sisters of Saint Joseph continue that founding mission to relieve suffering and bring hope in today's world.
St Joseph's Spirituality and Education Centre is a ministry of the Sisters of Saint Joseph – NSW Province.
The Centre offers the opportunity for individuals and groups to experience spiritual enrichment and personal development in a peaceful and spacious setting. The facilities are available to those whose purpose is in harmony with the spirit and philosophy of the Sisters of Saint Joseph.